Alumano Aluminum Bar Stool
Backless aluminum bar stools made in the United States feature brushed aluminum frames. These American made aluminum stools are available with upholstered seats and wood veneer seats. Use the Alumano Aluminum Bar stool for retail business activities such as in shoe stores, CD DVD media stores, musical instrument stores, eyeglass sales. Also in short term waiting areas, fitting rooms and interview seating areas. The Alumano Aluminum stool is perfect for many technical, office, industrial, museum and library uses too.

Alumano Aluminum Bar Stool
Aluminum barstool frame construction:
1" Square and quarter-round aluminum tubing.
Upholstered seat.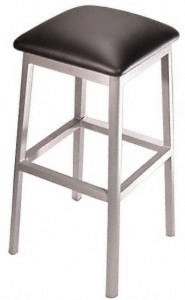 Alumano Aluminum Barstool Dimensions
31" Overall Height -
Overall Width 17 ½" Overall Depth is 17 ½"
Seat is approx. 14 ½" Deep X 14 ½" Wide