Hairpin
Bentwood Chair Mahogany Stain
Wood stain shown on beech wood species.
Final stain color is affected by the porosity and grain
of each chair's individual component parts.
If you are doing critical color matching
please request a sample.
Click For Bentwood Chair Installation Photos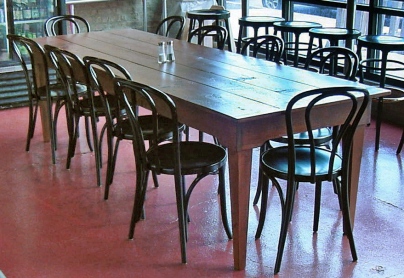 #W110V Hair Pin Back Bentwood Chair in Mahogany Stain

Light weight and strong. Always modern bentwood chair classics. These are the chairs you need for the European, New York or Victorian cafe look. These genuine bentwood style chairs are made of beech wood species. The chairs are available in a standard walnut stain.
Optional finishes for bentwood chairs are natural-clear lacquer, mahogany stain and black lacquer

Classic bentwood chairs for restaurants, bars, taverns, theatrical props, photography studio posing chairs.

Kurt Petersen P.O. Box 643 Naperville, IL 60566 Telephone 847-692-5458 FAX 847-692-6817
E-Mail: sales@kpetersen.com
Copyright © 2000 - 2017 Petersen Furniture International, Inc. All rights reserved. So there!
We Use DIGIMARC Digital Watermarking in many of our website images.