Laminated Plastic Custom Cabinets
Commercial foodservice and restaurant dining room cabinets, institutional dining room cabinets, cafeteria cabinets,
vending area microwave service cabinets, drink stations, condiment cabinets.
Choose from standard products, modify our standard products or custom design to fit your specific application.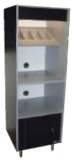 Single, Double, Custom Triple and Quad Vending Area Cafeteria Microwave Oven Cabinets
Microwave Oven Cabinets



Cafeteria Tray Pick Up Cabinets
Kurt Petersen P.O. Box 643 Naperville, IL 60566 Telephone 847-692-5458 FAX 847-692-6817
E-Mail: sales@kpetersen.com
Copyright © 2003 - 2017 Petersen Furniture International, Inc. All rights reserved. So there!
We Use DIGIMARC Digital Watermarking in many of our website images.