Deco Steel Restaurant Chair Wood Seat
THE ONLY PLACE TO SIT In the Moderne restaurant, kitchen, or dining room. Our heavy duty powdercoated Steel Deco Style Restaurant Chairs are available with upholstered seats, wood veneer seats and even upholstered backs. Deco Steel Restaurant Chairs are heavy duty, all welded construction, made in the United States. Matching Deco Steel barstools are also available. Deco Steel restaurant chairs are available in a wide variety of upholstery materials including fun Retro glitter vinyls. All Deco Steel Restaurant Chairs shown can be shipped UPS in small quantities. Please request a quotation if you are considering a large order.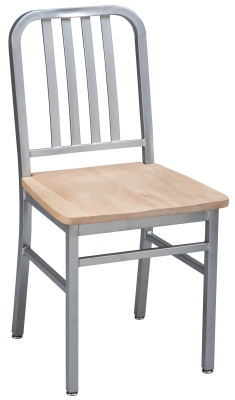 Click for Deco Steel Restaurant Chair Detail Photos
Dimensions Approx.
34 ½" Overall Height - Overall Depth is 18"
Seat is approx. 17" Deep X 17" Wide
Upholstered Steel Chair Weighs Approx. 20 Lbs.
Deco Steel Restaurant Chair
Military Style Chair - 1920's, 1930's and 1940's
Streamlined Art Deco Look.
1" Square tubular steel metal chair frame construction.
Black powdercoated frame finish is standard with optional finishes available.

Restaurant seating made in the United States.



Also See: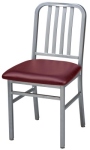 Deco Steel Restaurant Chair with Upholstered Seat
Deco Steel Restaurant Chair with Upholstered Seat and Back