DecoDina Aluminum Bar Stools
THE ONLY PLACE TO SIT In the Moderne, Art Deco theme restaurant or Jazz Age jazz bar. DecoDina aluminum bar stools and aluminum counter stools are also great accents in the Art Deco theme office or waiting room. Our clean looking streamlined brushed aluminum stools are available with aluminum, upholstered and wood seats. The DecoDina aluminum bar stool style with an aluminum seat is also suitable for use as outdoor restaurant furniture. Aluminum bar stools are standard at approximately 30 inch seat height. Counter stools are approximately 24 inch seat height. DecoDina aluminum bar stools and aluminum counter stools are available in a wide variety of upholstery materials including fun Retro glitter vinyls.
Also available Matching

Aluminum Chairs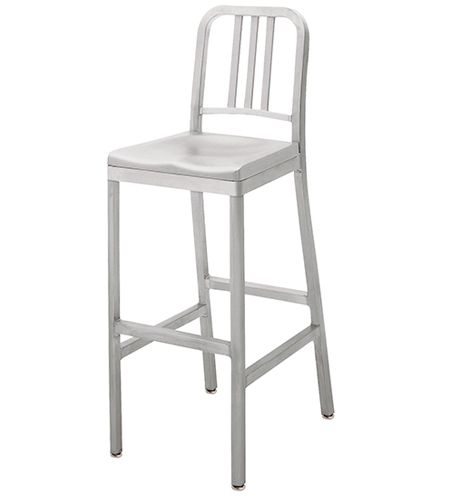 Aluminum Barstool Dimensions
43" Overall Height - Overall Depth is 20"
Seat is approx. 15" Deep X 15 ½" Wide
Standard barstool seat height is 30"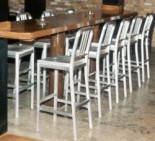 Click To See Jazz Bar Aluminum Bar Stool
Installation Photos


DecoDina Aluminum Bar Stool
Military Style - Government Issue, 1930's 1940's Streamlined Art Deco Look.
Brushed aluminum frame and brushed cast aluminum seat standard for DecoDina Aluminum Bar Stools.



Click For Aluminum Counter Height Stools
Also See:



DecoDina Aluminum Bar Stool With Upholstered Seat


DecoDina Aluminum Bar Stool With Wood Veneer Seat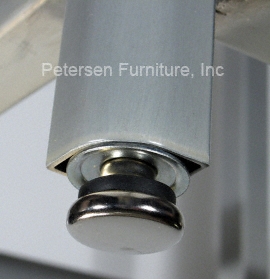 Quarter Round Aluminum Leg Is Equipped
With A Rubber Cushioned Steel Glide