Diner Restaurant Tables

Grooved Aluminum Edge 1 ¼" Thickness
Classic retro metal edge diner restaurant tables. Polished or Matte Finish grooved aluminum edge restaurant table tops.
Retro diner restaurant tables made in the United States.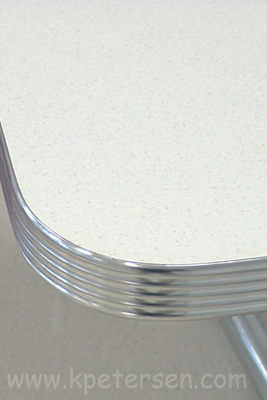 Click To See Diner Table Installation Photos


Click To See Diner Table Installation Photos
Matte Grooved Aluminum
Table Edge Finish

Polished Grooved Aluminum
Table Edge Finish
Also Available

Chrome Table Legs


Choose standard Wilson-Art and Formica brand laminates for best delivery times and pricing.

See Standard
Solid Color Plastic Laminates | Woodgrain Plastic Laminates | Pattern Plastic Laminates
| | | |

Formica's Standard Boomerang Pattern


Also See Premium Wilson Art© Brand

Custom Indie© Collection Boomerang Patterns
Return Home
| Restaurant Tables | Restaurant Chairs | Bar Stools | Outdoor Chairs |
| Restaurant Booths | Custom Cabinets | Waste Receptacles | Cafeteria Seating |
Kurt Petersen P.O. Box 643 Naperville, IL 60566 Telephone 847-692-5458 FAX 847-692-6817
E-Mail: sales@kpetersen.com
Copyright © 1999 - 2018 Petersen Furniture International, Inc. All rights reserved. So there!
We Use DIGIMARC Digital Watermarking in many of our website images.