Custom Wood Veneer Restaurant
Table Top Pricing
Made to order, high quality wood veneer restaurant tables. Dropleaf tables also available ( eased edge profile only ).
If you need a large quantity of wood table tops or you are working with us on a project that includes other products we'll quote accordingly.
We discourage residential inquiries due to minimum order requirement, shipping and delivery problems.
Six standard stains on real oak and beech veneers.
Wood table tops are heavy! Please provide your shipping destination city and ZIP code so that we can include freight charge estimates. Most sizes are too large to ship via UPS.
Made in the United States.
FOUR TABLE TOP MINIMUM ORDER. Sizes can be combined to make order minimum.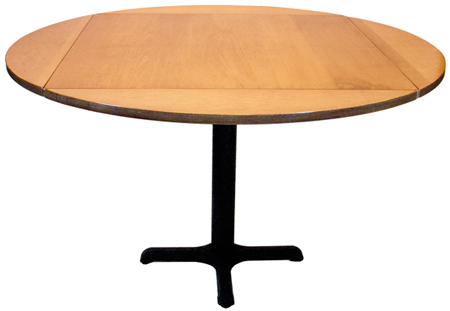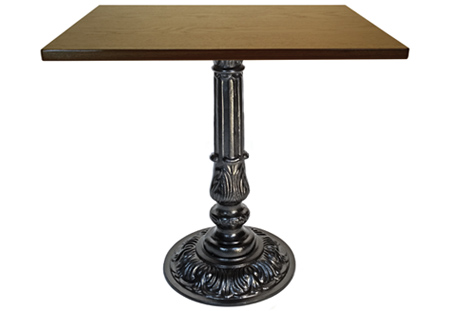 Oak and Beech Veneer Restaurant Table Tops 1 " Thick
Price Quantity 4 - 5
Price Quantity 6 - 12
24" X 24"
$86 each
$82 each
24" X 30"
$96 each
$92 each
30" X 30"
$107 each
$103 each
30" X 42"
$160 each
$153 each
30" X 48"
$169 each
$163 each
30" X 60"
$208 each
$200 each
30" X 72"
$335 each
$322 each
36" X 36"
$212 each
$204 each
42" X 42"
$319 each
$307 each
24" Round
$96 each
$92 each
30" Round
$123 each
$118 each
36" Round
$227 each
$218 each
42" Round
$330 each
$317 each
48" Round
$357 each
$343 each
60" Round
$375 each
$361 each
Four table top minimum order. Sizes can be combined to make order minimum.

Large tabletops require sufficient support. In addition to an appropriate table base bottom size
it is important to determine if your top will need multiple vertical columns, large diameter columns,
oversize top plates or oversize spiders.


Oak and Beech Veneer Drop Leaf Restaurant Table Tops 1" Thick
Price Quantity 4 - 5
Price Quantity 6 - 12
36" Square To 51" Round
$488 each
$454 each
42" Square To 60" Round
$620 each
$578 each
Table Bases Are Not Included And Are Sold Separately
To clean use a soft cloth dampened wild mild detergent and water. Wipe dry with a second clean soft cloth.
Spills should be wiped dry immediately. Do not use ammonia or bleach cleaning solutions, degreasers or abrasives.
Avoid prolonged exposure to direct sunlight, high temperatures and extremes of humidity.
Be aware that using china with unglazed or rough bottoms may cause scratching of the table top surface that is not covered by the manufacturer's warranty.
To avoid warping after you begin using wood table tops a cool environment (72 degrees) with a relative humidity of about 50-55% and a little bit of air movement is said to be ideal for wood objects in general. Change thermostat settings gradually as seasons change. A sudden change in temperature or humidity is the worst thing possible as moisture will be sucked out of or pushed into the material far too quickly causing tension inside it. Excess heat and dryness can even cause cracking and splitting. Avoid extremely hot plates, excessive water allowed to stand for long periods. Also avoid vinyl table cloths and glass tops as they can prevent air circulation and cause warping.