Wood Restaurant Tables - Oak Butcher Block

Oak tables shown below in random length butcherblock style.
Oak butcherblock tabletops are constructed of uniform widths of solid wood strips (staves) and laid back to back in a random pattern.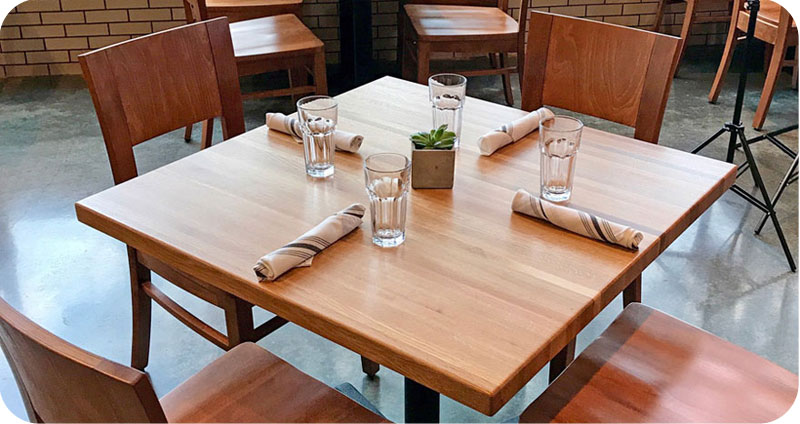 Oak Butcher Block Restaurant Table

Oak Butcher Block Restaurant Table
Corner Detail

Oak Butcher Block Restaurant Table
Edge Detail

Oak Butcher Block Restaurant Table
Solid Wood Table Edge Profiles

A5 Bullnose

P5 Beveled

An Additional Charge Applies To A5 Bullnose, D5 Rounded Edge And P5 Beveled Edge Orders.
Wood Table Standard Stains ( Shown On Oak )
Gunstock Walnut On Oak
English Oak
Bronze Oak
Wild Oak
Natural Oak
Walnut On Oak
Mahogany On Oak
Acajou On Oak
We can also do a premium Black on Oak Wood Species. Custom Stain Matching Service Is Available.
Espresso On Oak

Wood stains are shown on red oak. Final stain color is affected by porosity and grain. If you are doing critical color matching please request a sample.
Return Home
| Restaurant Tables | Restaurant Chairs | Bar Stools | Outdoor Chairs |
| Restaurant Booths | Custom Cabinets | Waste Receptacles | Cafeteria Seating |
Kurt Petersen P.O. Box 643 Naperville, IL 60566 Telephone 847-692-5458 FAX 847-692-6817
E-Mail: sales@kpetersen.com
Copyright © 2003 - 2018 Petersen Furniture International, Inc. All rights reserved. So there!
We Use DIGIMARC Digital Watermarking in many of our website images.