Sunbeam Economy Bar Table Base
Sunbeam Radial Design Steel and Cast Iron Bar Height Table Bases.
Table Bases are equipped with adjustable leveler glides.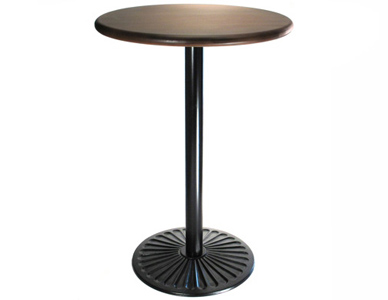 3" Diameter Steel Column, Sunbeam Radial Design Cast Iron Bottom.
"Labor Saver" Table Base Construction Shown Left. Top plate and threaded rod are welded to the 3" steel column leaving only the cast iron table base bottom to be quickly attached with a single nut.
Ornate Cast Iron Sunbeam Radial Design Table Bases Available in
17", 22", 30" Diameters and 30" X 36" Two Column Support Styles For Large Tops.
Sunbeam Radial Design Table Bases Are Standard In Black Finish. Designer Color Options Available.