All Welded Bolt Down Table Base #7300
Bolt down table base. Heavy duty, all welded steel construction for commercial and industrial fixed table and counter applications.
Heavy duty bolt down table base available in dining height, bar height and custom height.
Made in the United States.
Table Base Steel Top Plate is 10 3/4" X 10 3/4".
Table Base Steel Bottom Plate is 6 1/2" Diameter X 1/2" Thick with four 1/2" holes for floor attachment.
Table Base Steel Column is 3" Diameter.
8" Diameter Steel Escutcheon Cover Also Included. See Below.

Optional Footrest and Sliding Escutcheon Cover Details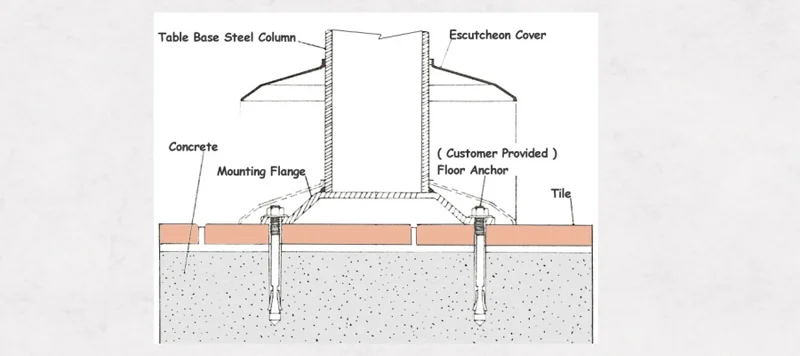 Heavy Duty Bolt Down Table Base Typical Floor Attachment Detail
Dining Height 28 3/4":
4 - 11 $94.00 each
Other quantities please call for quotation

Bar Height 40 3/4":
4 - 11 $147.00 each
Other quantities please call for quotation...........Optional Foot Rest Add-On $40.00

Custom height cutting service also available.
Bolt Down Table Base finishes available in many Standard Colors

And:


Which reveals welding and burnishing marks on the steel column, footrest and escutcheon cover.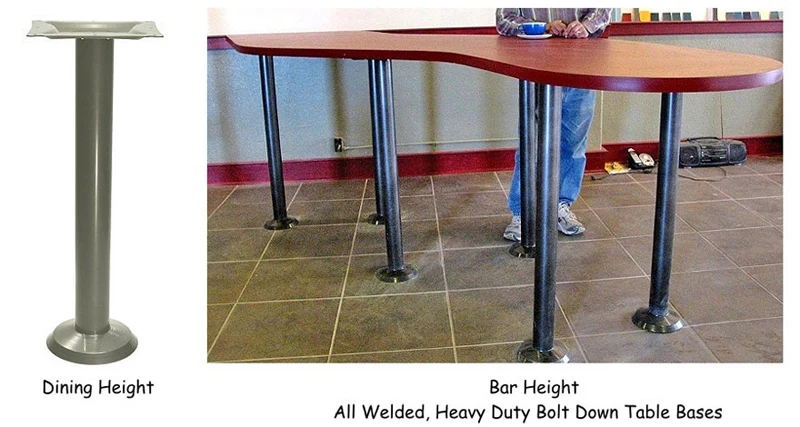 Bar Height Bolt Down Table Bases With All Welded Footrest Option Shown Below.