19th Century Reproduction
Parisian Style Folding Folding Bistro Coffee Table
# P155T-20 African Teak Slats

Durable, European made steel and African teak French bistro style folding coffee tables are faithful reproductions of the 19th Century
original French bistro design with modern improvements. French bistro folding tables are attractive enough to use inside
for permanent dining room installations. Durable for use outside with drawn steel frames treated for rust resistance and powdercoated.
Generally IN STOCK for fast shipment.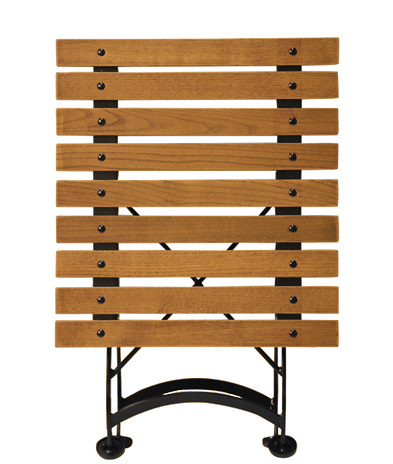 # P155T-20 French Bistro Folding Coffee Table
African Teak (Iroko) slats are standard in the wood's 'natural' color.
Standard steel frame finish is black
Table Top is Approx. 20" X 18"
Overall Height Approx. 20"
Weight Approx. 15.5 lbs.


French Bistro Folding Coffee Table African Teak (Iroko) Slats Detail