Quick Ship
Economy Contoured Restaurant Booths
Please note that as restaurant reopenings surge and supply chains are disrupted our Quick Ship Program has been put on hold. Please call for accurate lead time estimates for Economy Contour Restaurant Booths.
Economy Laminated Plastic Restaurant Booths.
Booths sell complete with 24" wide vinyl edge table tops, steel frame and two laminated plastic booth seats.
Ships in approximately 10 business. Maximum order quantities may apply.


Calculate layout dimensions at 63" from seat back to seat back using a standard 24" wide table top.

From the floor to the top of the seat back is 36". From the floor to the top of the table top is 30"

Seats lengths are available in:
23" (Two person wall style frame restaurant booths)
42" (Four person wall style and island style frames restaurant booths)
59" ( 59" Six person wall style frame restaurant booths require an additional, aisle side table top support )

Standard finish for back of seat back is black cabinet liner. Matching decorative laminate on back of seat back is also available.

Economy Contoured Restaurant Booth seating saves space and maximizes seating capacity. Contoured Restaurant Booth seating helps organize traffic flow in your restaurant employee breakroom or school cafeteria. Laminated plastic booth seating minimizes cleaning maintenance and provides a safe food service seating solution for fast food restaurant customers, office employees, factory workers and students.
42" Four Seat Wall Style Booth Shown.
Laminated Plastic Booth Seating Comfort
Comfort comes from the formed seat because it places the base of a seated person's spine below the seated knee level. This produces a flowing line of support for the human body in its natural sitting position. There is also a hard seat "slide in" feature so the booth seat can be entered easily. Clothes do not wrinkle or shift when customers slide into their seating space.

Laminated Plastic Booth Seating Maintenance
Seats are easy to keep clean with an almost self-cleaning character. Steel frame supports are offered with a minimum of floor contact and maximum openness designed with floor cleaning in mind. Easy maintenance means you can spend more time doing productive, profitable work.

Laminated Plastic Booth Seating Design and Decor Flexibility
High pressure plastic laminate seat construction offers you virtually unlimited design choices. Bold, bright solid colors, authentically reproduced woodgrain patterns, stone patterns and a variety of modern, subtle and whimsical designs are available from cutting edge laminate manufacturers. A pleasing composition of color, texture and pattern can project a style that is a big part of the dining experience no matter what the budget or venue.

Laminated Plastic Booth Seating Durability and Wear
The use of durable high pressure plastic laminate on the entire exposed seat surface provides a lifetime of wear. The laminated plastic seat surface is waterproof, stain resistant, flame resistant and never needs refinishing.

Laminated Plastic Booth Seating Price and Quality
Recognizing that cost is an important purchasing component we make every effort to be competitive with other types of seating products without sacrificing product or service quality.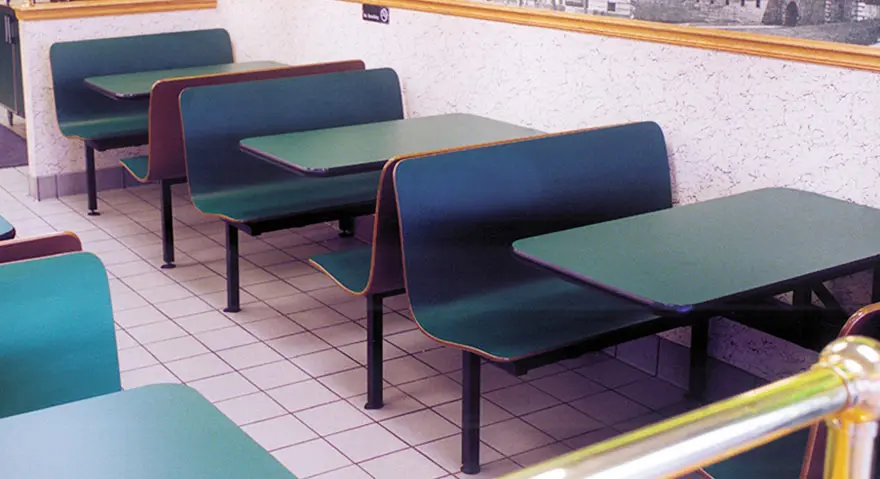 Four Seat Wall Style Booths Shown Above. Four Seat Island Style Booths Shown Below.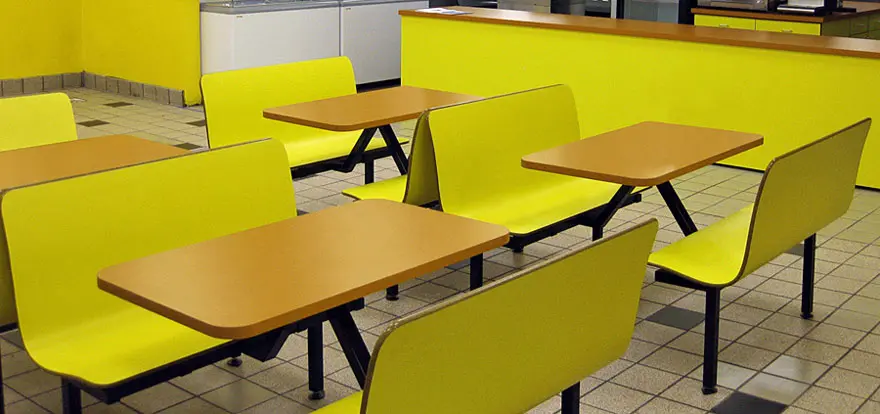 Six Seat And Two Seat Quick Ship Laminated Plastic Contour Booths Shown Above.
Standard Steel Support Frame Finish Is Black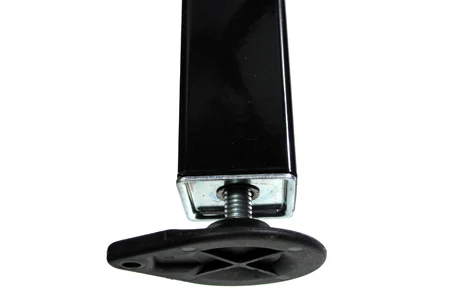 All booth support frames legs are equipped with adjustable leveler glides drilled for floor attachment.
Floor attachment is recommended and hardware is included.


Quick Ship
Plastic Laminate Table Top And Seat Color Selections: