# RCY 300 Recycle Waste
Receptacle Center
The perfect Recycle Waste Receptacle Center for interior commercial or institutional applications. Recycle cabinet is all high pressure plastic laminate with heavy duty vinyl edged top and side panels. Self return, swing pushdoors with permanently routed lettering and symbols are standard. Made in the United States.
1 1/4" Thick Vinyl Edged Side and Top Panels.
Welded Steel Frame.
35 gallon liners included with single opening sections.
( Blue ) Recycle bins included with two opening sections.
Optional casters available.
Optional finished back panel ( facing wall ) available.

# RCY 300 Triple Recycle Waste Receptacle Cabinet 44 3/4" High X 64 1/2" Wide X 23 1/2" Deep
Triple cabinet as shown above priced around $2100 each ( Around $1900 each when ordering two or more Recycle Centers.)
Call for quantity quotes and freight estimates to your destination.

Recycle Waste Receptacle Cabinets are available in single, double and triple cabinet configurations.
~
Single 44 3/4" High X 23 1/2" Wide X 23 1/2"Deep
~
Double 44 3/4" High X 44" Wide X 23 1/2" Deep
~
Triple Recycle Waste Receptacle Cabinet 44 3/4" High X 64 1/2" Wide X 23 1/2" Deep
Recycle Waste Receptacle Cabinet Door Options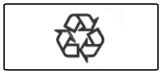 Standard Recycle Waste Receptacle Cabinet Graphics Options
Heavy Duty Vinyl T Mold Edge Colors: Black, Brown and Natural Woodgrain Pattern

Custom Modifications Available
Choose Wilson-Art and Formica Brand Laminates
For Best Recycle Waste Receptacle Delivery Times and Pricing: