Chrome Sputnik Bar Stool With
Chrome Ring Seat #P227
Sputnik barstool THE ONLY PLACE TO SIT. Get that Space Age design satellite bar stool look comrades! Angled and tapered chrome legs and chrome rimmed upholstered round seat. Equipped with a revolving swivel and foot guards to protect floors. Sputnik bar stools are available in a wide variety of upholstery materials including Cracked Ice Vinyl and Naugahyde Zodiac Glitter Vinyl. Click here for general chrome bar stools pricing. The Sputnik Bar Stool is made in the United States not Russia. Please request a quotation if you are considering a large capitalist order.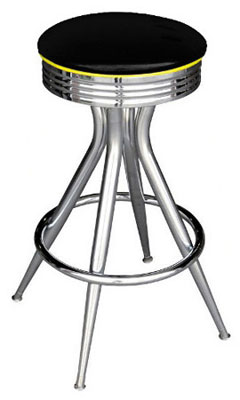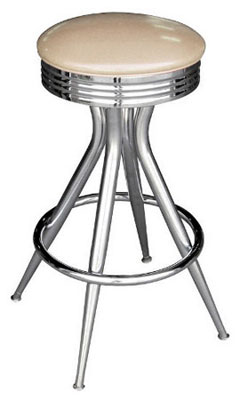 Free Standing, All Welded Frame Retro Chrome Sputnik Bar Stools
Better Dead Than Red Vinyl, Cossack Black Vinyl, Off White Russian Vinyl