Brushed Stainless Steel Table Tops
Brushed Stainless Steel table tops for restaurant dining rooms.
Stainless steel table tops with particle board core and black vinyl T mold edge. Round Sizes Available.
Stainless steel table tops can be attached to standard restaurant table bases with ordinary wood screws.
Made in the United States.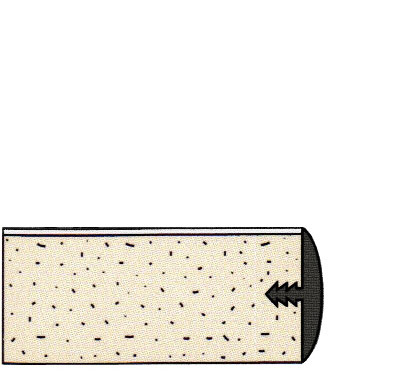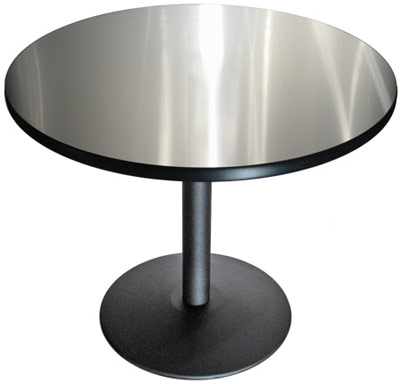 Table Cut-Away View Showing Particle Board Core Material And Black Vinyl Edge Construction.

Stainless Steel Table Top Edge And Brushed Surface Finish Details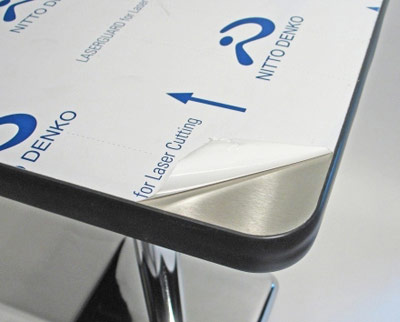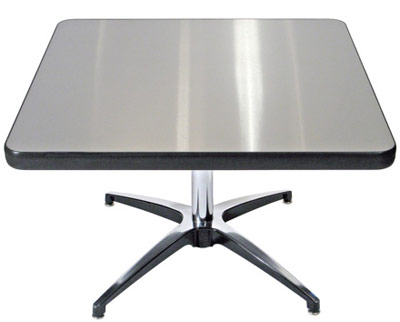 Square Stainless Steel Table Top Radius Corner Detail. Stainless Steel Table Tops Ship With A Protective Plastic Film
Stainless steel table tops are not scratch proof. Like any metal surface stainless steel tops will pick up scratches and abrasions with normal use. Scratches in stainless can be buffed out with Scotch Brite pads or very fine grit sand paper (steel wool is not recommended due to the mild steel fibers contaminating the stainless surface therefore leaving rust colored stains).
It is also recommended that the surface of the grain is followed in the same direction when buffing out scratches. Stainless steel tables although very resistant to corrosive environments do require periodic care and maintenance. Cleaning is necessary on all grades of stainless to prevent corrosive particles from gathering in the grain of the stainless surface. This results in a rust colored staining. One might think that the stainless is actually rusting, but it is actually the corrosive particles that are reacting and causing the staining. Weekly cleaning with a good stainless cleaner will keep the surface free from corrosive particles. In environments where there is salt, chlorine or air pollution present, a weekly cleaning with water and liquid detergent followed by drying will keep the stainless surface free from contamination. If staining has occurred the surface can be cleaned with a non abrasive, non chlorine kitchen cream cleanser.