Deluxe V Back Diner Restaurant Chair #220
THE ONLY PLACE TO SIT in the 50's soda fountain, 50's kitchen, Moderne "Kitchy" kitchen or diner restaurant.
The Deluxe V Back Diner chair features a 2" thick upholstered seat and heavy duty 14 gauge chrome tubular steel frame construction. This classic V back diner chair is especially suitable for custom styling. For a colorful, authentic diner look specify a main upholstery color, a second color for the V and even a third color for the welt cord piping. Many visual merchandising possibilities too. Diner chairs are available in a wide variety of upholstery materials including Cracked Ice Vinyl and Naugahyde Zodiac Glitter Vinyl. Matching retro bar stools and floor mounted soda fountain counter stools are also available. Click here for general diner chair pricing. Please request a quotation if you are considering a large order. All diner chairs shown can be shipped UPS.
Now available in BUDGET PRICED QUICKSHIP vinyl color combinations.

Deluxe V Back Diner Chair - Budget Quick Ship Vinyl Selection Above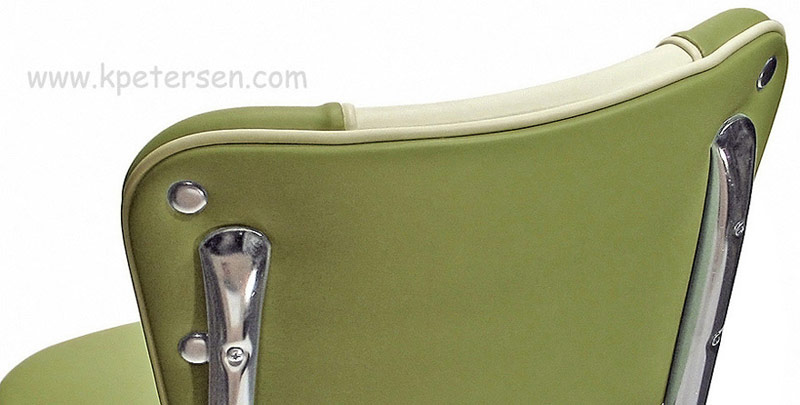 Deluxe V Back Diner Chair Custom Vinyl Selection Above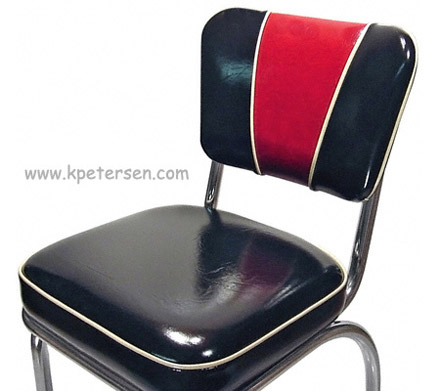 Deluxe V Back Diner Chair Custom Vinyl Selection Above


Deluxe V Back Diner Chair Custom Vinyl Selection Above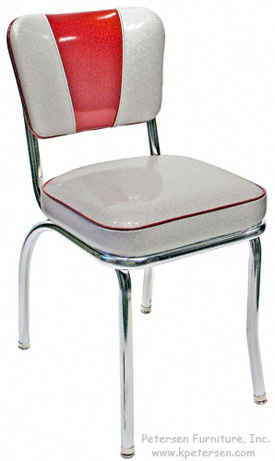 Deluxe V Back Diner Chair Custom Vinyl Selection Above