Texas Cowboy Seat
Floor Mounted Counter Stool 616CTR
THE ONLY PLACE TO SIT in the retro bar, club or bowling alley.
Deluxe floor mounted 616CTR Texas Cowboy Seat counter stool with comfortable wrap around diamond tufted upholstered and nail trimmed seat. Heavy duty hardwood frame construction and expert upholstery work. Stools are equipped with revolving plate swivels.
The vertical column and bottom bell are reinforced with cast iron.
Texas Cowboy Seat counter stools are available in a wide variety of upholstery materials including Cracked Ice Vinyl and Naugahyde Zodiac Glitter Vinyl. Click here for bolt down counter stool pricing. Please request a quotation if you are considering a large order. All counter stools shown can be shipped UPS in small quantities.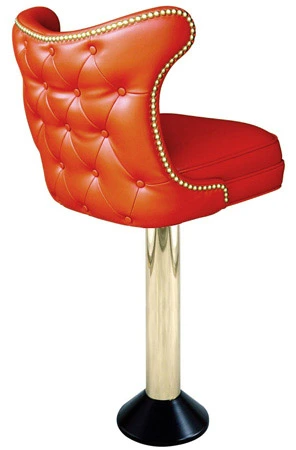 Deluxe 616CTR Texas Cowboy Seat Counter Stools
( Optional Brass Plated & Standard Chrome Columns Shown )


Upholstery And Nail Trim Detail

Deluxe Texas Cowboy Seat Floor Mounted Counter Stool 616CTR.
Nail Trimmed Back Rest Upholstered Seat Equipped With A Return Swivel Mechanism.
Standard chrome column and chrome bottom bell are reinforced with cast iron.

For space planning purposes OVERALL seat dimensions are 17" Wide X 19" Deep.
This product has a wrap around backrest which is the basis for the overall depth listed. The inside seat depth is typically about 2" less than the overall depth listed.
If you need an exact inside seat width and depth dimension please ask us.

This is a removable lift off seat.
Lift off seats facilitate installation, swivel, floor attachment maintenance and upholstery repair.
16 Gauge Chrome Column is 3 1/4" Diameter
Bottom "Bell" is 9 1/4" Diameter
Specify counter stool seat heights in any height between 18" and 30" (in one inch increments).
All counter stools available with optional cast aluminum footrest.
Custom, made to order with your choice of upholstery material in the United States.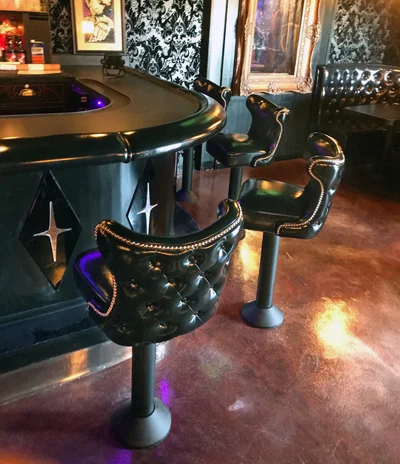 Matching Texas Cowboy Free Standing Club Chairs And Bar Stools Available.

See Floor Attachments



See Suggested Counter Height and Counter Stool Seat Heights

See Soda Fountain Counter Stool Layout Suggestions and Footrest Alternatives